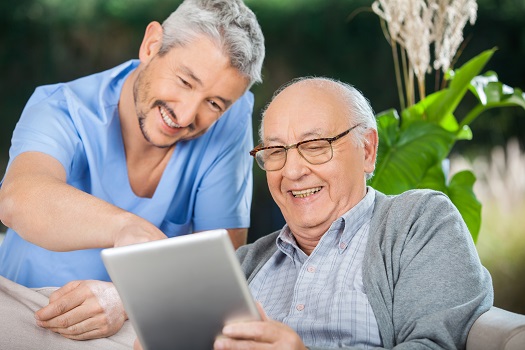 Hiring a home caregiver is a major decision you may need to make for your aging parent. While your loved one may initially resist, he or she will quickly come to realize it's a good decision. Here are six reasons to consider the services of a home caregiver for your loved one.
1. Help with the Activities of Daily Living
If your parent has limited mobility or a debilitating illness, he or she may be unable to perform the activities of daily living (ADLs), which include bathing, dressing, grooming, and eating. You may need to hire a home caregiver to assist your loved one with the necessary ADLs.

Some seniors with mobility limitations or health issues find it challenging to live safely on their own. If your senior loved one needs around-the-clock assistance at home, the Amarillo live-in care professionals at Home Care Assistance are here to help. Our proprietary Balanced Care Method was designed to promote longevity by encouraging seniors to focus on healthy eating, regular exercise, mental engagement, and other important lifestyle factors.
2. Manage Medications
Elderly people with cognitive deficits may be unable to manage their medications safely. A caregiver can remind your loved one to take his or her medications as ordered by the physician and monitor for any side effects or adverse reactions that may occur. If side effects are noticed, the caregiver will notify you so you can call the doctor.
3. Prepare Nutritious Meals
It's essential for seniors to eat nutritious meals every day. If your parent cannot prepare meals or eat independently, a home caregiver should be hired. Having a caregiver in the home ensures your loved one doesn't develop a nutritional deficiency, and he or she can also be monitored for choking episodes if dysphagia has been diagnosed.
4. Assist with Housekeeping Duties
Living in a cluttered or dirty environment is detrimental to your loved one's physical health, and it may also have negative effects on his or her mood. A home caregiver can perform light housekeeping and wash clothes so your loved one can live in a healthy environment and wear freshly laundered clothes.
5. Offer Companionship
Seniors often experience loneliness and social isolation, which can cause depression and anxiety. Caregiver companionship may boost your loved one's mood and restore hope for a brighter future. Long-term caregivers often bond with their clients, resulting in rich and rewarding relationships.
A senior's sense of isolation or loneliness can be greatly alleviated with the assistance and companionship of a compassionate professional caregiver. Many seniors prefer aging in place over moving to an assisted living facility. If your senior loved one needs assistance to remain safe and comfortable while living at home, reach out to Home Care Assistance, a leading Amarillo senior care agency. Our dedicated in-home caregivers can assist with meal prep, bathing and grooming, exercise, medication reminders, and many other important tasks.
6. Provide Transportation
If your loved one is unable to drive or get around independently, he or she may need a home caregiver for transportation to run errands. The caregiver can drive your loved one to physician and dentist appointments, the beauty salon or barber shop, the pharmacy to pick up prescriptions, and the grocery store. Having regular transportation also gives your loved one more opportunities to get out of the house, preventing social isolation.
With the help of a highly trained, compassionate professional caregiver, your loved one can enjoy the golden years in the safety and comfort of home. Though you may be researching multiple agencies that provide home care, Amarillo, TX, Home Care Assistance has much to offer your family and your elderly loved one. We are leaders in the senior home care industry, offering proprietary programs like our holistic Balanced Care Method and around-the-clock assistance from reliable, experienced caregivers. Trust Home Care Assistance to help your loved one enjoy a happier and healthier life in the golden years. To create a customized home care plan for your loved one, call Home Care Assistance at (806) 803-9991 today.