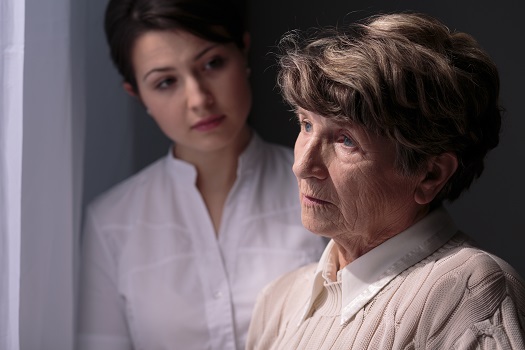 Combative behavior is typical in older adults with Alzheimer's, especially those in the later stages of the disease. Family caregivers must remember that the effects of the condition are causing their loved ones to lash out and focus their attention on finding ways to manage the aggression. Continue reading to learn how to handle physical and verbal outbursts in an elderly loved one with Alzheimer's.
Use Distractions
Instead of dwelling on the problem that caused the combative behavior, look for ways to distract your parent. For instance, if your loved one is eating dinner and begins to throw food or starts yelling at you, turn on music as a distraction. You could also suggest playing a game. The objective is to redirect your loved one's focus to something new and positive. Once your loved one focuses on the new activity, he or she may forget what led to the aggressive actions.
If your senior loved one needs help managing an illness or assistance with daily tasks, make sure you choose a top-rated provider of home care. Amarillo Home Care Assistance is here to help your loved one live a happier and healthier life in the golden years. From the mentally stimulating activities in our Cognitive Therapeutics Method to our friendly Care Managers who are available to answer your questions 24 hours a day, we offer a wide array of high-quality at-home care services.
Don't Correct
Your loved one's memories and cognitive abilities will decrease as Alzheimer's progresses, making it difficult to complete many tasks and activities correctly. However, when he or she gets things wrong and becomes upset, don't focus on the errors. Trying to point out mistakes could make the aggressive behavior worse. Avoid correcting your loved one and concentrate on his or her feelings instead of what he or she did wrong.
Monitor Medications
Some Alzheimer's medications cause side effects like delirium or increased confusion and agitation that lead to aggressive behavior. Monitor your loved one's actions after he or she takes the drugs. If the medication is causing the combative behavior, let his or her doctor know immediately. The primary care physician could prescribe different medications to treat Alzheimer's.
Senior care providers can benefit aging adults in a variety of ways. From cooking nutritious meals to offering timely medication reminders, the dedicated caregivers at Home Care Assistance are available to help your elderly loved one 24 hours a day, 7 days a week.
Offer Reassurance
If your parent has a combative episode, calm the situation by touching his or her hand or giving him or her a hug or pat on the back. The positive and nurturing approach could provide your loved one with peace of mind and help him or her relax. Don't startle your loved one. Let him or her know what you're about to do. He or she may then focus on those actions instead of the issue that led to the aggressive behavior. If your loved one doesn't like to be touched, you can still offer reassurance by using encouraging words. Tell your loved one that everything will be okay and that you're there to help.
Walk Away
Sometimes there's no way to stop a verbal outburst, so you should go to another room and give your loved one a chance to calm down. Walking away could prevent the situation from turning physical. Leaving the room also stops you from saying or doing things you'll regret. Once your loved one is more relaxed, you could return to the room to start a new conversation or suggest a fun activity. 
If your senior loved one has Alzheimer's and needs help managing daily tasks, reach out to Home Care Assistance, a leading provider of Alzheimer's care. Amarillo, TX, Home Care Assistance provides reliable caregivers around the clock to help your loved one age in place safely and comfortably while living with Alzheimer's disease. To schedule a free in-home consultation with one of our qualified Care Managers, call (806) 803-9991 today.