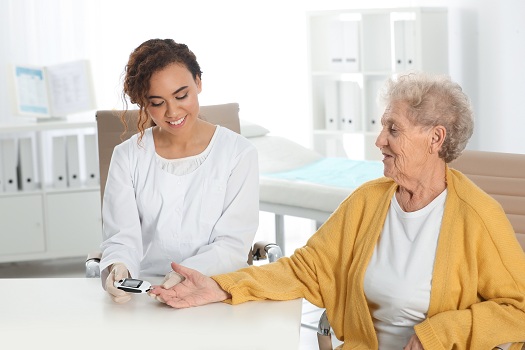 Caring for an aging loved one can be a difficult task, especially when your loved one is living with diabetes. However, caregivers who are able to create and follow daily care routines are able to reduce the frustration and anxiety often associated with addressing diabetes. Below are some of the most important aspects of diabetes care and how you can work them into your daily routine. 
Foot Care
Because of poor circulation and reduced sensation in the feet (known as neuropathy), diabetics are particularly vulnerable to foot injuries and often cannot heal properly once their feet have been injured. Preventing foot injuries thus becomes incredibly important, since diabetes is still the leading cause of amputation in the United States. 
One easy way to make foot care part of the daily routine is to inspect all surfaces of your loved one's feet just before he or she goes to bed, then wash and dry them and apply lotion if needed. Always make sure to check that the toenails are in good shape. Have regularly scheduled appointments with a podiatrist several times a year or as needed to keep the nails trimmed. It's also good to invest in diabetic socks and shoes to keep your loved one's feet healthy. 
If your senior loved one needs help handling an illness or assistance with daily tasks, make sure you choose a top-rated provider of home care service. Home Care Assistance is here to help your loved one live a happier and healthier life in the golden years. From the mentally stimulating activities in our Cognitive Therapeutics Method to our friendly Care Managers who are available to answer your questions 24 hours a day, we offer a wide array of high-quality at-home care services.
Blood Sugar Log
One of the single most important aspects of diabetes care is maintaining a daily blood sugar log. The doctor will tell you how often you'll need to check your loved one's blood sugar, and when you do, record it in your log every time. This will make it easier to spot trends in blood sugar levels and help the doctor assess how effective your loved one's diabetes care plan is. You can use a notebook or a calendar to keep track of the logs, and make sure to bring them to each appointment so the doctor can examine them. 
Families who find it difficult to care for their aging loved ones without assistance can benefit greatly from professional respite care. Amarillo, TX, family caregivers who need a break from their caregiving duties can turn to Home Care Assistance. Using our proprietary Balanced Care Method, our respite caregivers can encourage your loved one to eat well, exercise regularly, get plenty of mental and social stimulation, and focus on other lifestyle factors that promote longevity.
Diet
Diabetics can have a low rate of compliance when it comes to diabetic diets, but a diet that has a low glycemic index and won't spike blood sugar is key to day-to-day diabetes care. Offer eggs, fresh vegetables, lean meats, whole wheat or brown rice products, and moderate amounts of fruit in daily meals. If your loved one has a sweet tooth, there are many diabetic dessert cookbooks available that will allow him or her to indulge a little without raising blood sugar levels.
If your elderly loved one is living with a serious medical condition and needs help with the tasks of daily living, reach out to Home Care Assistance, an Amarillo senior home care agency you can trust. Our caregivers are available 24/7, there are no hidden fees in our contracts, and we offer a 100% satisfaction guarantee on all of our in-home care services. For reliable in-home care services, contact us at (806) 803-9991.